The NGO Whisperer® Global Summit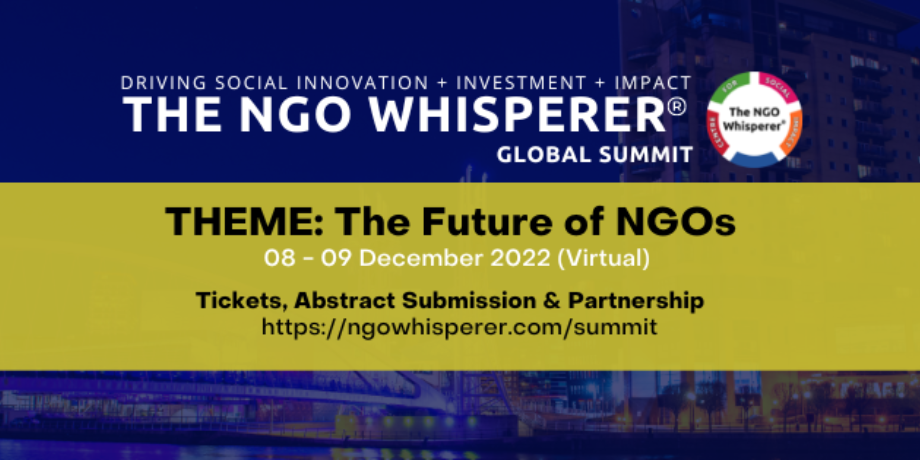 The world is going through a rapid transition. Non-governmental organisations (NGOs) are faced with volatility, uncertainty, complexity, and ambiguity (VUCA) at the local and international levels. What then is the future of NGOs?
The NGO Whisperer® Centre For Social Impact in collaboration with our partners cordially invites you to join NGOs, social entrepreneurs, philanthropists, funders, and government agencies on 08 and 09 December 2022 for The Future of NGOs™ Global Summit.
The summit offers a three-tiered fee structure, with lower registration fees for delegates from low and middle-income countries. Book your ticket today.
Early bird tickets available until 31 October 2022.
Early bird ticket for low-income countries: GBP 50 + fees
Early bird ticket for middle-income countries: GBP 60 + fees
Early bird ticket for high-income countries: GBP 200 + fees
The list of low, middle and high-income countries is based on the World Bank Classification
Abstract submission deadline is 31 October 2022.
The Future of NGOs Global Summit 2022 welcomes the submission of abstracts for original contributions to the NGO sector in the following categories:
Leadership and organisational governance
Resource mobilisation – Sustainable financing and social investments models
Agile project management
Change management
Innovation and artificial intelligence
Monitoring, Evaluation, Research and Learning
Partnership and engagement for sustainability
Diversity, equity, inclusion and accessibility